Death, by Aria II
Sun Aug 5 at 5pm
Christ Church Episcopal, 28 Bull Street
Tickets: $22

Meet the cast members of Hansel and Gretel, Speed Dating Tonight! and The Audition Project! The singers of these three events present their best songs and arias in this fast-paced showcase of talent in the Christ Church Episcopal sanctuary where the Festival began. Get ready for an evening of "to-die-for" voices! This non-stop celebration of the voice will wow both "die hard" fans and newcomers to the Festival.
Sponsored by Jan and Sam Durham
CAST
Daniel Ambe, tenor
Sarah Barker, soprano
Brian McClary, baritone
Elizabeth Barry, soprano
Kristina Costello, soprano
Caitlyn Douglas, mezzo-soprano
Samantha Frischling, soprano
Brydon Fox, soprano
John Green, baritone
Larissa Hommes, mezzo-soprano
Clara Imon Pedtke, soprano
Katherine Short, mezzo-soprano
Bridget Johnston, mezzo-soprano
Christina Kershaw, soprano
Emma McAlister, soprano
Mi Na Shin, soprano
Austin Cripe, tenor
Ana Collado, soprano
Before You Go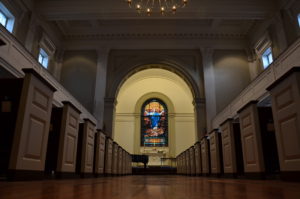 Christ Church Episcopal
Christ Church was the first house of worship in the colony of Georgia and was founded in 1733 with the establishment of the colony. This historic site has now become a part of SVF's history as well. Some of our first concerts were held in this gorgeous space.
Street parking is available along Johnson Square and in the surrounding area. Patrons can also find parking available in either the Congress Street or Bryan Street parking garages nearby.
ARRIVAL
We recommend you arrive with plenty of time for parking. Please keep in mind that the lobby opens 1 hour prior to showtime and the doors open 30 minutes prior to showtime.