The Telephone
Thurs Aug 9 at 6pm & 8pm
Davenport House Kennedy Pharmacy, 324 E State Street
Tickets: $22
Gian Carlo Menotti's one-act opera The Telephone tells of a romance between woman and… technology! Written in 1947, a year after the first mobile phone call in history, this short comedic piece explores how the ability to talk to someone miles away sometimes prevents us from talking to someone in the same room.
Guests will enjoy pre-opera entertainment as our Festival Artists perform other telephone-related pieces, accompanied by the presentation of Menotti's 30-minute opera, The Telephone.
Sponsored by Julia and Wesley Krulic and presented in partnership with the Davenport House Museum.
Gloria Kim, piano
SYNOPSIS
Ben, bearing a gift, comes to visit Lucy at her apartment; he wants to propose to her before he leaves on a trip. Despite his attempts to get her attention for sufficient time to ask his question, Lucy is occupied with interminable conversations on the telephone. Between her calls, when Lucy leaves the room, Ben even takes the risk of trying to cut the telephone cord, though his attempt is unsuccessful. Not wanting to miss his train, Ben leaves without asking Lucy for her hand in marriage. But Ben makes one last attempt: He calls Lucy from a telephone booth outside on the street and makes his proposal. She consents, and the two join in a romantic duet over the phone line, at the end of which Lucy makes sure that Ben remembers her phone number.
BEFORE YOU GO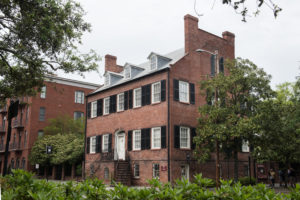 Davenport House Museum
Throughout its fifty-years plus history as a museum, the Davenport House Museum has striven to provide visitors with a true and vivid encounter with a uniquely Savannah story.
Street parking is available on Columbia Square and along Broughton and Broad Streets.
The Kennedy Pharmacy is located on the corner of Broughton and Habersham Streets. Please use the Habersham Street entrance.
Director
Joe Winskye
Joe Winskye has directed over 50 theatrical productions around Florida and Hawaii over the past fifteen years. Savannah audiences will remember his recent staging of the premier of Michael Ching's Anna Hunter in November of 2017. He served for eight years as the Producing Artistic Director of Hat Trick Theatre Productions in Tampa, FL.  Some of his favorite directing credits include, Waiting For Godot, Noises Off , Burn This, Bash, and The True History of Coca-Cola In Mexico.  Outside directing, Joe has also has dozens of credits for sound design and fight choreography.   Joe has also co-created several original works which premiered in Florida, including The Doors, A (Completely Inaccurate) History of Violence in Entertainment, and a new adaptation of The Three Musketeers.
Composer
Gian Carlo Menotti
Gian Carlo Menotti was born on 7 July 1911, in Cadegliano, Italy. At the age of 7, under the guidance of his mother, he began to compose songs, and four years later he wrote the words and music of his first opera, The Death of Pierrot. In 1923 he began his formal musical training at the Verdi Conservatory in Milan. Following the death of his father, his mother took him to the United States, where he was enrolled at Philadelphia's Curtis Institute of Music. There he completed his musical studies, working in composition under Rosario Scalero.
The Consul, Menotti's first full-length work, won the Pulitzer Prize and the New York Drama Critics Circle award as the best musical play of the year in 1954. By far Menotti's best-known work is the Christmas classic Amahl and the Night Visitors, composed for NBC-TV in 1951. This beloved opera celebrated the 50th anniversary of its premiere in 2001, and continues to receive hundreds of performances annually.
In 1984 Menotti was awarded the Kennedy Center Honor for lifetime achievement in the arts. He was chosen the 1991 "Musician of the Year" by Musical America.